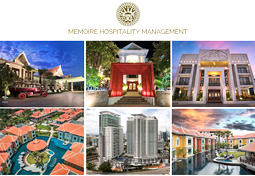 MEMOIRE HOSPITALITY MANAGEMENT6
The Memoire Hospitality Management Group ("MHM") is the brainchild of our Founder, Mr Willie Wong, a frequent traveler himself Willie intends to create memorable and unforgettable experiences for his guests in the Memoire Hotels.
The first Memoire hotel was established at Siem Reap, Cambodia in 2011 with a group of hoteliers, and has since grown into a chain of 7 Hotels Resorts,
The Memoire Experience is cultivated refined by its excellent service quality, unbeatable hospitality and ultimate comfort of the rooms.
Every guest will remember that Memoire Hotels is "Value for Money", where you will get at least double or more value than they've paid for.